Hot
New
In stock
Reserve Stock
Out stock
Naztech 15W Smart Grip Wireless Charging Car Mount w/ Vent Mount & Suction Mount
PRODUCT TYPE: Wireless Charger
Real time
5
visitor right now
PRODUCT INFORMATION
CUSTOMER REVIEWS
PRODUCT INFORMATION
At the very heart of the Naztech 15W Wireless Charging Mount is the intelligent auto-gripping system built for the perfect secure hold. Just placing your phone on the mount signals the arms to automatically open then close, and Qi technology begins fast charging your phone on contact. With an incredible 15W wireless output, the mount delivers 3X the power of a standard charger for high-speed charging!
3 Mounting Options
Windshield/Dash - The sticky gel suction cup and 2-step locking lever will firmly attach the mount to your dashboard or windshield. Installs on curved or textured surfaces and prevents damage to the dashboard.
Air Vent - The rubberized grips easily slide into place on the air vent and the universal twist-grip knob will quickly tighten to secure the mount onto thick and thin vent grilles.
Adjustable Telescopic Arm
The arm extends up to 8 inches and pivots 210° to hold your device exactly where you want it.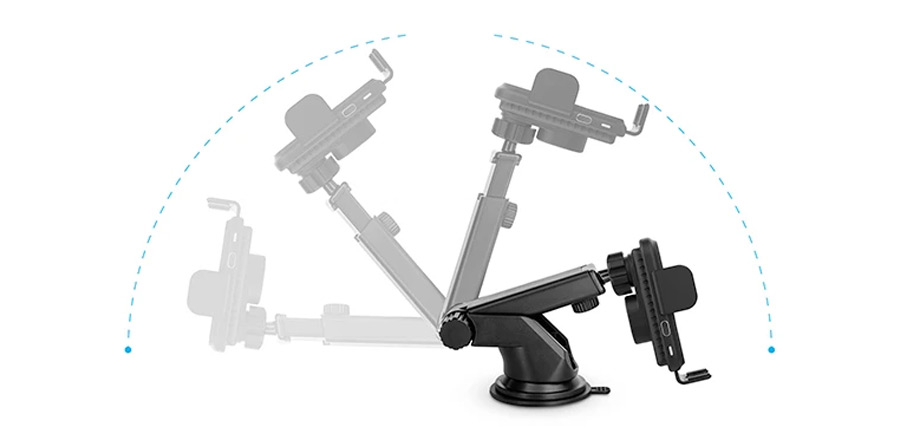 Optimized for iPhone & Android Fast Charge
Offering the widest range of device compatibility, instantly adjusting between a 5W, 7.5W, 10W, and 15W output to ensure that your iPhone or Android Qi-device will always receive the fastest charge possible.
Phone Case Friendly
No need to remove your phone case while charging. The Smart Grip Wireless Charging Car Mount can charge through cases up to 3mm thick.